A walk at Launde Big Wood with Andy Neilson, LRWT Conservation Officer responsible for this wood.

It was on an overcast St Georges day that 9 members met Andy Neilson of the Leicestershire and Rutland Wildlife Trust at the start of a walk around Launde Big Wood. The rain kept away but we encountered plenty of water once we were in the wood. This covers about 42 hectares, on clay and on a slope so wet rides and a stream or two were to be expected.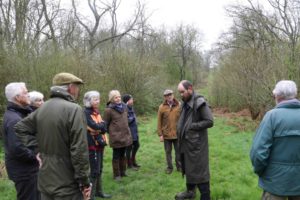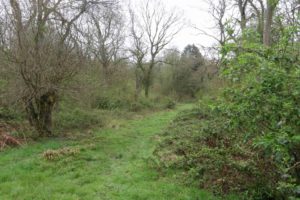 We approached the wood along a track from the road, admiring the view of the rolling countryside as we went. Andy told us about the wood. It is larger than its neighbour, Launde Park Wood but has been less changed. It was clear felled during the last war but has been well managed during the care of the Wildlife Trust, with careful coppicing. Many elms were lost to Dutch Elm disease in the 60s but some remain. Now the many ash trees are succumbing to Ash Dieback. Another problem comes from grazing muntjac, which destroy regenerating shoots and saplings. Short of reintroducing lynx they can only be controlled by shooting, which does occur from time to time.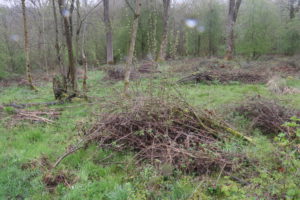 Andy led us on a circular tour of the wood. We heard song thrush, blackcap, chiffchaff and willow warbler and saw nuthatch and raven. We found, amongst other things, Wood Anemone and Dog's Mercury and several big glades of Bluebells. Herb Paris and Toothwort are also present, though we didn't try and find these. One of Andy's interests is butterflies and he spoke a lot about the various species that he had found in the wood. Most exciting is Purple Emperor which has been seen regularly over the last few years. The Launde examples don't seem to descend to feed on dung, as they are do at Fermyn Woods near Corby. They are more in the tree tops but patience will be rewarded. The same goes for Purple Hairstreak, also present, as are Silver-washed Fritillary and White-letter Hairstreak. The latter lives around a stand of elms along the furthest edge of the wood.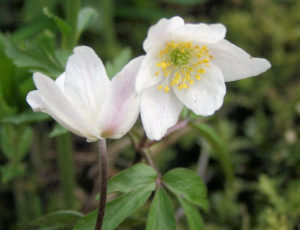 We all had a very interesting time, entirely due to Andy's guidance and explanations. We learnt a lot about woodland management and about the Trust's stewardship. It's a reserve worth visiting, full of interest. Just remember the right footwear.
Report John Rodgers