The attached article was brought to our attention by Jane and Duncan Ball.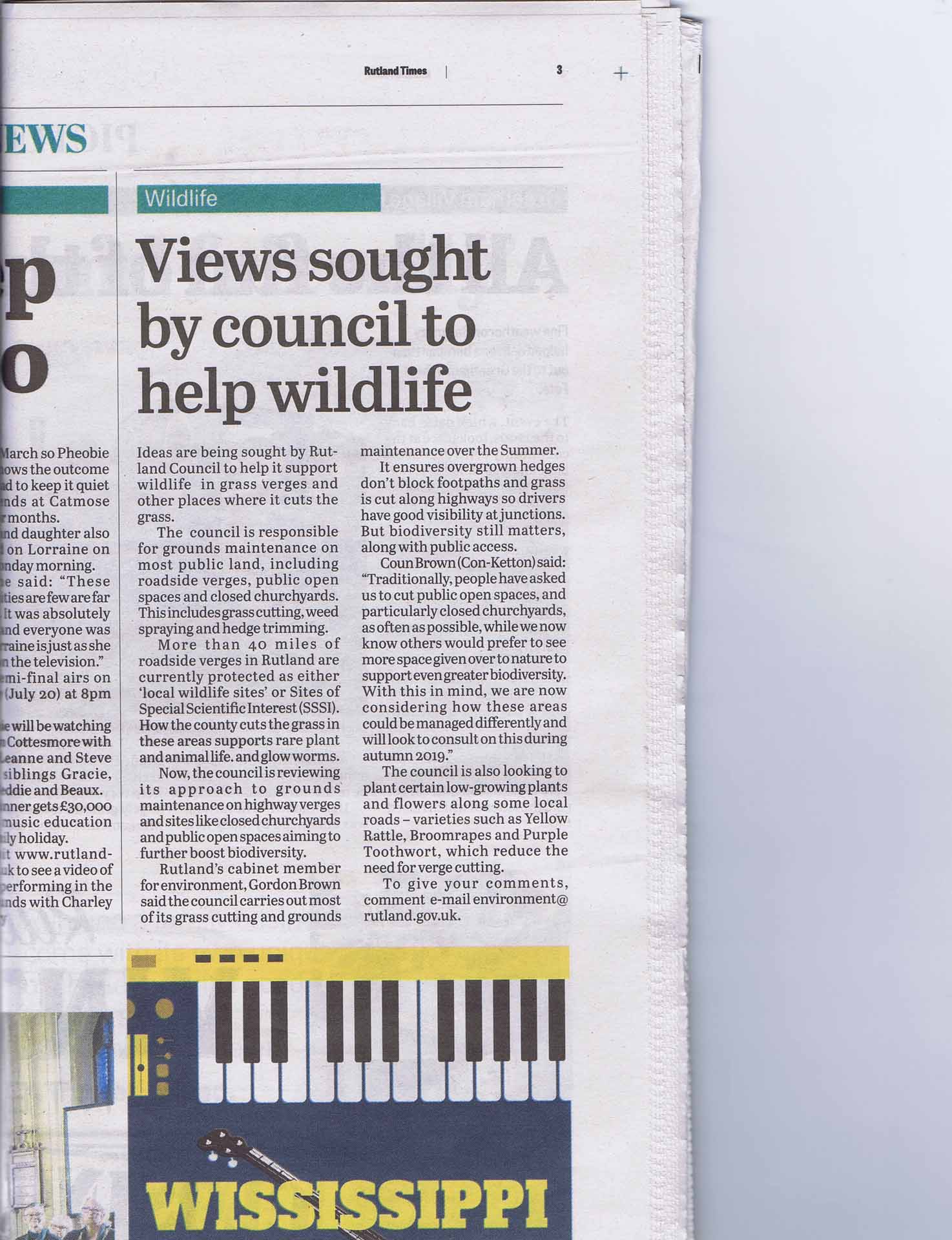 It seemed appropriate to offer some response and after due consideration by members of the committee and recorders a reply has been formulated to send to RCC.
Rutland Natural History Society response to Verge management comments request
RNHS is concerned that Rutland Roadside verges are managed in the best way to promote biodiversity, and to encourage wild flowers, invertebrates and other wildlife species to thrive.
We have for many years monitored many of the local conservation verges, and have done our best to protect them from damage by external parties and to advise against adverse management strategies. We know that RCC has been trying to follow good practice in the last few years, with the help of contractors.
We would like to draw your attention to Plantlife's "Good Verge Guide", www.plantlife.love-wildflowers.org.uk/roadvergescampaign which outlines regimes for differing types of roadside verges, and gives alternative strategies to apply where there are constraints on the cutting regimes which can be applied.
Plantlife is also planning to release a best practice guide for maintaining roadside verges this summer, after consultation with national highway agencies, industry and wildlife organisations, which will undoubtedly be helpful when considering future practice.
We suggest that on normal roadside verges a minimal cutting regime is adopted, delaying cutting until mid to late summer – mid July to September, and cutting once yearly only. We accept the priority for cutting a narrow strip at the edge of all verges for the purpose of road safety.
On roadside nature reserves, or conservation verges where wild flowers are already present the ideal is to cut twice a year from August to April, removing the clippings to prevent enrichment of the soil condition due to increased nitrogen levels. Left on the verge these clippings rot down and release nitrogen which enriches the soil. This encourages the growth of vigorous plants like grasses which then smother many wild flower species. On the limestone verges in the east of the county if only one cut is used, we would recommend that cutting and removal takes place in April to reduce the growth of coarse grasses, hogweed and cow parsley, and allow regeneration of plants like small scabious, salad burnet and other pants of low nutrient soils.
We do not consider that planting wildflowers is advisable, as a natural species diversity will recover over time, and native plants will not survive in unsuitable habitats. For example, of the species mentioned in the press article toothwort is a woodland species, parasitic on hazel, alder and beech, which is unlikely to survive on roadside verges. Purple toothwort is rare in Leicestershire and Rutland, and not a plant found generally in Rutland and so would not be in keeping with the aim to allow verges to be as natural as possible. However when large scale road projects remove topsoil then in some cases wildflower mixes could be planted if topsoil cannot be replaced.
The construction of drainage "grips" at frequent intervals is not to the benefit of wildflower verges, and while there are a few places where they may improve roadside drainage, the majority are not effective, and we would consider them an unnecessary damaging expense. When maintenance is necessary then care should be taken to avoid dumping the soil on top of important plants which may be dormant at the time of work.
Linda Biddle Chair RNHS on behalf of members.
Should you wish to respond as individuals please consider the Society stand, thank you
We will also be issuing a letter to the local press to try and get further coverage on this point.
Letter to Press on roadside verges.
Many readers will, like me have been enjoying the colour and variety on display in our Rutland roadside verges this year. Whether it is as a result of the good summer last year, or growing conditions this spring they have been a picture for us to enjoy.
It was heartening to read in last week's edition that RCC is asking for comments on mowing of roadside verges with view to improving biodiversity. For many years Rutland Natural History Society together with LRWT have tried to protect the diversity of species on roadside verges in Rutland. A group of verges chosen for their variety and abundance of wildflower species has been monitored and species regularly recorded. WE have also tried to protect the verges from inappropriate maintenance regimes, and other accidental or intentional damage by raising issues with RCC and other organisations.
While in recent years the RCC has attempted to put in place regimes to protect these verges, often the verges have inadvertently been incorrectly mowed, sometimes due to contractors not having been made sufficiently aware of their responsibilities in this area. Any inappropriate mowing, digging or dumping of spoil results in reducing the flower species and abundance, and if continued year by year can result in verges with a preponderance of rank grasses and strong plants such as cow parsley which smother the other flower species.
A wide diversity of plants not only looks attractive but also provides a range of environments and food for other groups such as insects, which in turn are food for birds and small mammals. The RCC is to be encouraged to carry out a nature friendly regime for mowing our roadside verges, and we hope that many readers will follow up on their request for comments.
Linda Biddle Chair RNHS