Outdoor Meeting : New Year Walk at Fineshade Wood
Sunday 8 January 2017 From 1030hrs to 1400hrs
With typically unseasonal weather, ten members met at the car park in Fineshade Forest on Sunday 8th January and enjoyed a relatively balmy temperature of 9° C although a little overcast at first and damp underfoot. This Northamptonshire Forest is managed by Forest Enterprise and is a remnant of an ancient woodland now rich in semi-natural native woodland, as well as conifers which is gradually being restored to site-native broadleaf woodland.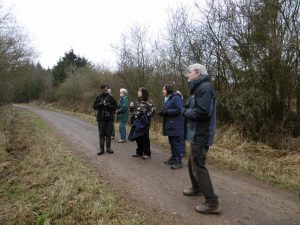 The group met with the sounds of a greater spotted woodpecker, coal and great tits calling. Although the number of flowering plants and shrubs is at the lowest this month, there were a few signs of what is to come with a small group of spurge laurel just beginning to flower. It was too early to find the male flowers of hazel but catkins were plentiful as were the large clusters of cones hanging from some of the conifers.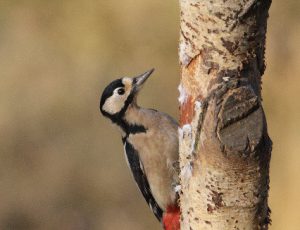 A steady walk around the track marked as the Dale Trail revealed more bird activity and snatches of song or calls from wren, chaffinch blue tit and nuthatch. We were also treated to the sight of a small group of around 20 redwing. The keen eared members picked up the faint calls of siskin and goldcrest together with marsh tit and a tree creeper.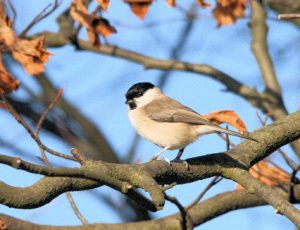 A visit to the hide towards the end of the walk was completed by good views of a great spotted woodpecker along with blue and great tits at the feeders and a moorhen on the pond and of course the inevitable red kite and buzzard..
With the odd glimpse of sun, an occasional sight of a grey squirrel and the unmistakable scent of an early patrolling fox, the group had totalled 23 bird species which considering the time of year, was very satisfying.
Anthony Biddle
Posted on: 14th November 2016 By Peter
Posted in: Meeting Reports