Outdoor Meeting: Winter Walk at Hambleton
Sunday 13 January 2019 From 1000hrs to 1300hrs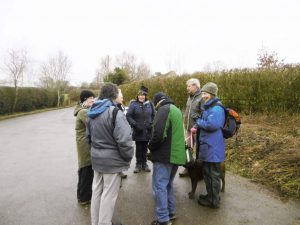 A cool morning with cloudy skies and a strong breeze blowing from the west saw 18 RNHS members out for a winter stroll, meeting near the Old Hall Hambleton to walk along the perimeter track and see what we could find. First were a few Teal, some Widgeon, and an unidentified sandpiper feeding on the edge of the water. The strong wind had encouraged a large flock of tufted duck, over 300 strong, to shelter behind the Old Hall headland, and they had been joined by grebes, both great crested and a smaller grebe, later identified as red-necked, widgeon and mallard, so we spent quite a while watching their activities. The birds were startled and put up by lesser black-backed gulls overflying, and a flock of Canada geese flew across the water. Greylag and Egyptian geese were also seen. As we followed the track into the wood muntjac tracks were observed, badger scufflings and tracks crossed our path. At openings among the trees the water was visible, and we had beautiful views of male and female Goldeneye as they bobbed up and down on the waves, disappearing below the surface frequently to feed. In the distance were a couple of scaup, and several Gadwall.
A shower of misty rain came over and we made for the shelter of the wood, but it soon blew over. In the woodland neat holes had been drilled by woodpeckers into old silver birches, and King Alfred's cake fungi were growing on fallen timber. We walked through a newly planted area, and then through the old hazel coppice. Here we saw several grey squirrel dreys, large leafy collections in forks of the branches. At the side of the path some Herb Robert was flowering, giving a splash of pink and a taste of spring among the brown, and flowering hazel catkins in a sheltered spot shed pollen when touched. Large bat boxes had been erected on some of the trees, one with a mysterious hole and "patching up" around it on the front. This was examined by several members, who came up with various explanations, from wasps and bees attempting to paste over the hole, to human intervention – but the real reason remains a mystery. Perhaps we shall be able to explain later with help from the bat people!
By 12.00 noon we had returned to our cars after a good start to 2019. The fresh air had blown away our cobwebs, and gave us all a good appetite for lunch.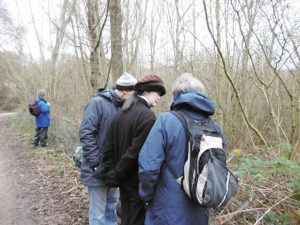 Posted on: 3rd December 2018 By Peter
Posted in: Meeting Reports